TL;DR...
We've updated our Chrome & Firefox browser extensions; new features include...
Extension icon changes if BugHerd has successfully loaded or not.
Simple error messages to help debug when the BugHerd sidebar doesn't appear.
See which project you're reporting a bug to.
and much more.
To see it in action, take a look at this quick video of the new experience.
For the full story about what's changed, see below.
You might have noticed in the last few days we've released an updated version of our browser extension. It's been a change we've been wanting to make for a long long time now, and finally, we've had the opportunity to do it.
Something we've heard regularly in your feedback is that, on occasion, it could be difficult to get the BugHerd sidebar to appear. The sidebar would just not show sometimes, and when it didn't appear, it was really difficult to understand why.
It turns out that this was usually to do with a few common reasons/errors but there was no way for you, as a BugHerd user, to easily understand why and how you could fix the problem.
With our latest update to the browser extension, we hope to make this much, much simpler.
So what's new with this update?
1. Different icon states for the extension
Our browser extension now displays its state making it super clear when something isn't quite right. The image below shows the various states in which the icon can appear.
2. Simpler error messages
On the occasion something does go wrong, clicking the browser extension will give you simple error message to help you understand the problem & fix it.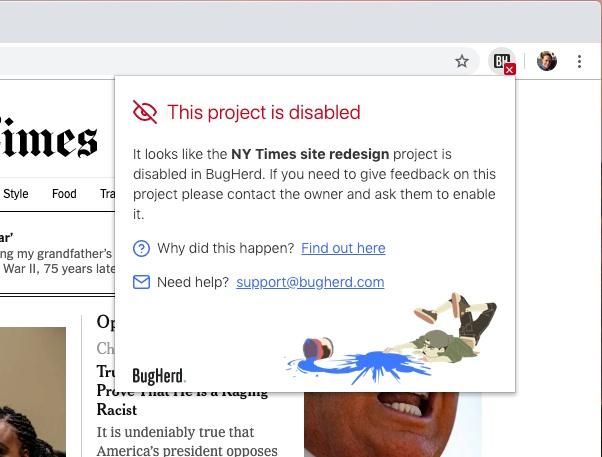 3. See which project you're reporting bugs to
Now, by clicking on the extension when BugHerd has successfully loaded, you can see which project the sidebar will report bugs any new bugs to.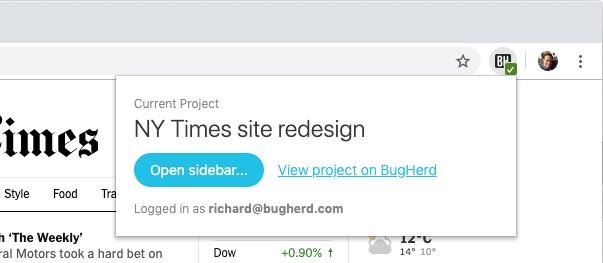 4. Click the extension icon for more information
Finally, when you click on the extension icon, it will give you more information depending on which of the above states it is in. So if you're having trouble getting the sidebar to appear, just click on the extension to see why. In this example, BugHerd couldn't load because you're not currently logged-in, so the extension will display a login message.
.
There's a whole bunch of other changes we've made under the hood but we won't bore you with the details.
So, how do I know if I've got the new version?
You should see that the extension browser icon has changed (it's now the "BH" logo). This should have automagically happened but if you're still seeing the old version, try the following...
Chrome users - Restart Chrome.
Firefox users - Take a look at this article
We hope you enjoy the updates, and as always, if you've got any feedback please do let us know via the comment box below or contacting support@bugherd.com.
Thanks,
The BugHerd Team.