Previously, at the end of a project when every task was in the done column, there still remained one job. To move each of those done tasks to the Archive… one by one. Urgh!
Rejoice! This release from BugHerd lets you move multiple tasks in the last column of your Task board to the Archive at the same time.
Move ALL completed tasks to the archive
Simply click the dots in the column heading, and select Archive all Tasks. Confirm you want to Archive them all (no one likes an accidental archiver), and Boom! Those tasks are off the Task Board and filed away in the Archive for reference.
Move a selection of tasks to the archive
There's a handy shortcut if you want to only move some tasks to the archive.
Hold down Control (Windows) or Command (Mac) and click individual tasks to select them, or hold down Shift and click to select a range of tasks. Then click Archive Selected Tasks to send the selected tasks to the Archive.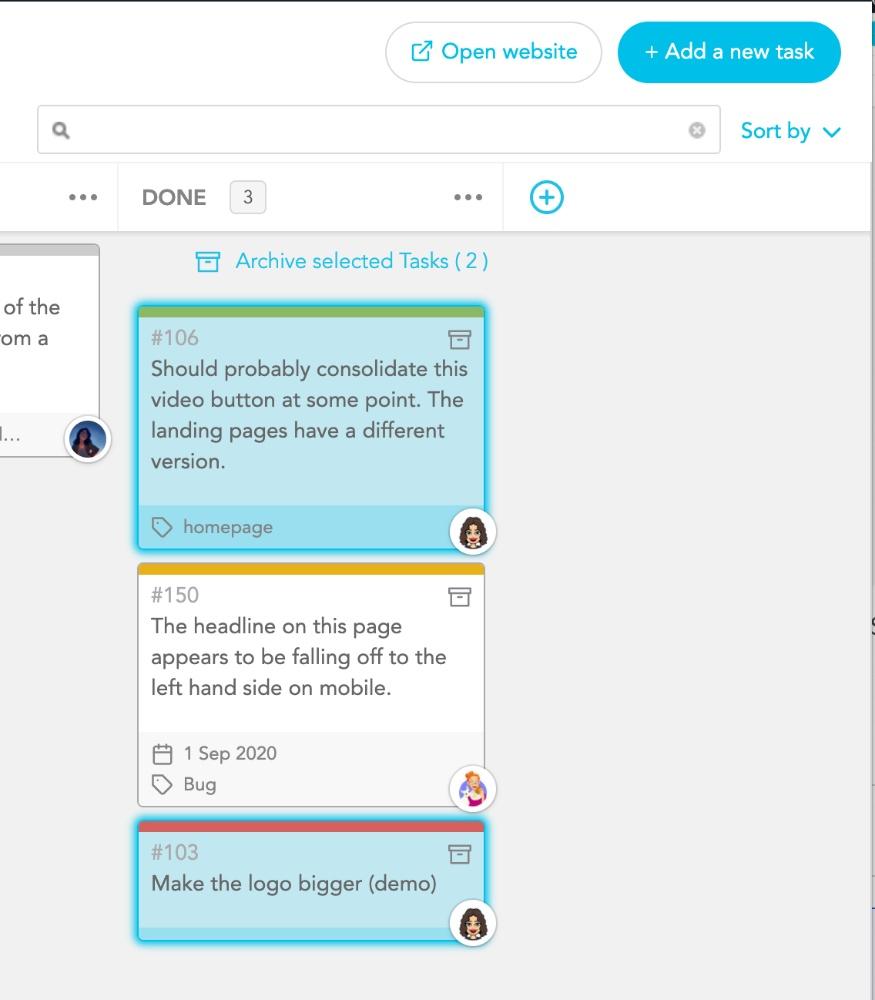 Restore groups of tasks from the archive
You can return a group of archived tasks to the Task Board by clicking Restore Tasks in the archive. Note that if you select Restore Tasks for a group, all tasks in that group will be sent back to the Task Board. You can restore groups of tasks for up to 24 hours after archiving them. You can continue to send individual tasks back to the Task Board from the Archive at
Shortcut to move between the Task Board and your website
Move easily between tasks on your Task Board and your website with the help of new links in BugHerd.
From your Task Board, click Open Website to go to your website.
Once on your website, you can return to your Task Board by clicking View on Task Board in any of the Tasks in your list.