Chart additions: Apple Music Top Tracks by City, SoundCloud Trending
We added a few new charts, further expanding our already extensive chart coverage. You can now see Apple Music's Top Tracks across 106 cities in 46 different countries. We also added a Trending chart for SoundCloud so you can stay up to date with the tracks that are going viral. We are tracking 1.8 million tracks on SoundCloud every day, so we know which track gained the most number of streams. Every day, we pick 1,500 of them per genre, and show them here. Check this out here.
Fan Base and Engagement rank added to Dashboard
As part of our recent changes to Cross-Platform Performance (CPP) Rank, we broke performance into Engagement and Fan Base. Now, it's easy to see the ranks of all your followed artists by going to your Dashboard. This should help you get a quick overview of the artists you care about.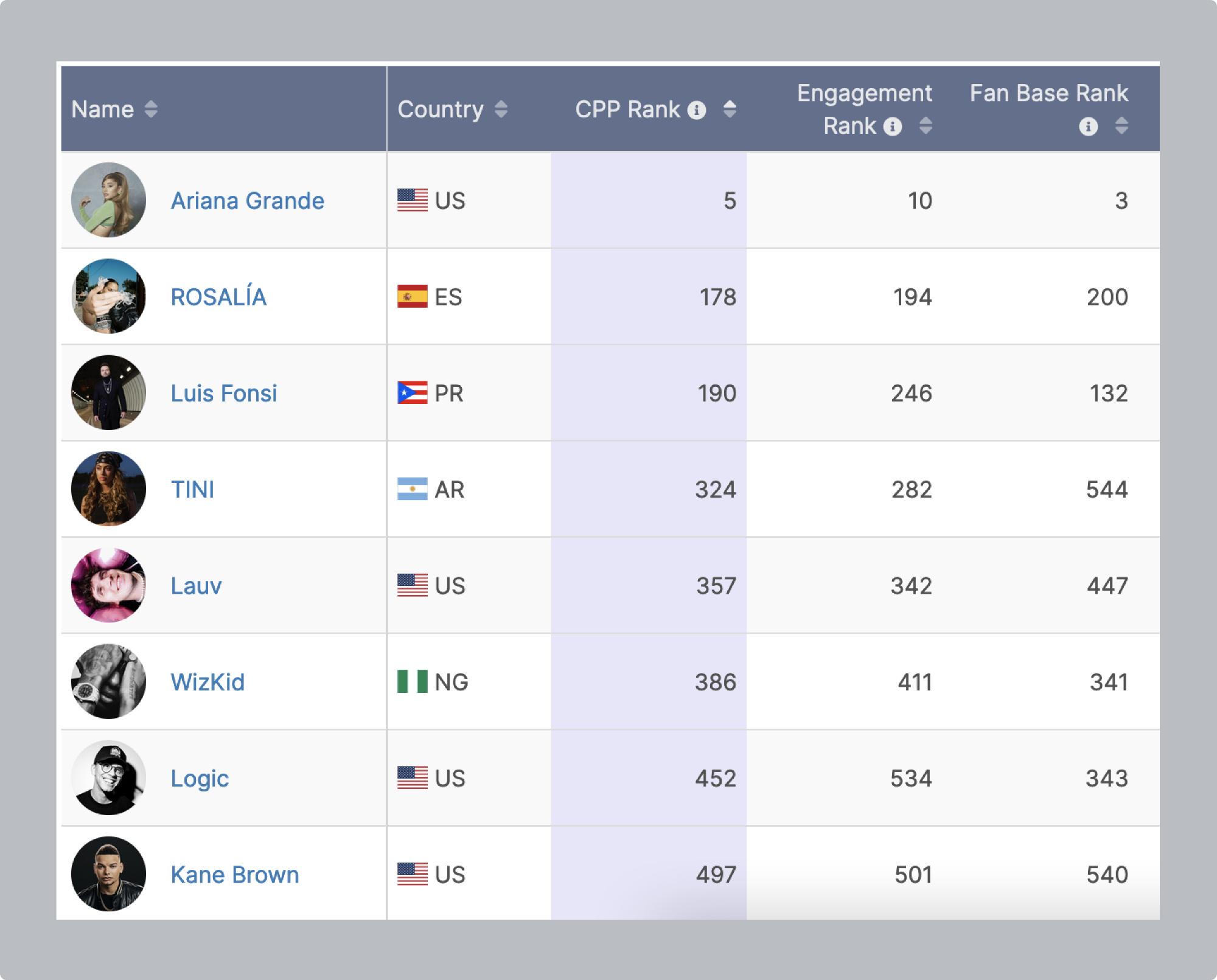 Spotify streams data on track pages
We are very excited to announce that we now have the Spotify stream count for the top tracks of each artist. On Track pages, you can find it in the "Stats" section for the historical view or in the "About Track" section with the other Summary Stats. We hope this helps you better understand the virality of top tracks and what people are listening to.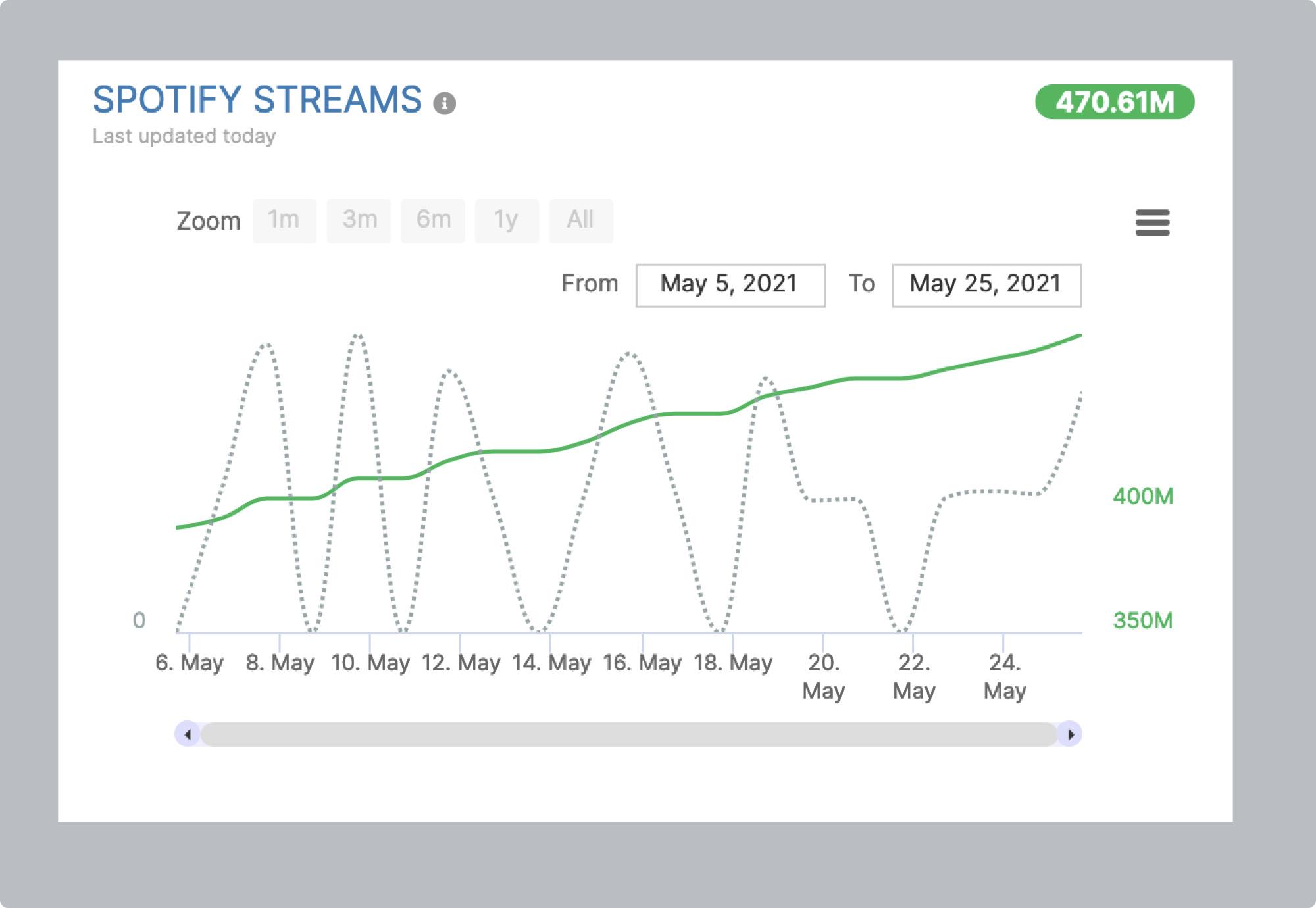 Line and Melon stats and charts
We expanded our global coverage of digital streaming platforms with Line (Japan, Thailand) and Melon (South Korea). It's important to have a global view of the music industry and now you have access to data from more music markets than ever with this addition.

Option to sort by percent change of metrics on Artist List page
You can now sort the Artist List page by the 28-day growth in metrics like Spotify Monthly Listeners, TikTok Followers, and so many more. While it's important to know which artists are at the top, it can be just as important to know which are growing the most. Sorting by the percent change will show which artists have grown the most in the selected metric.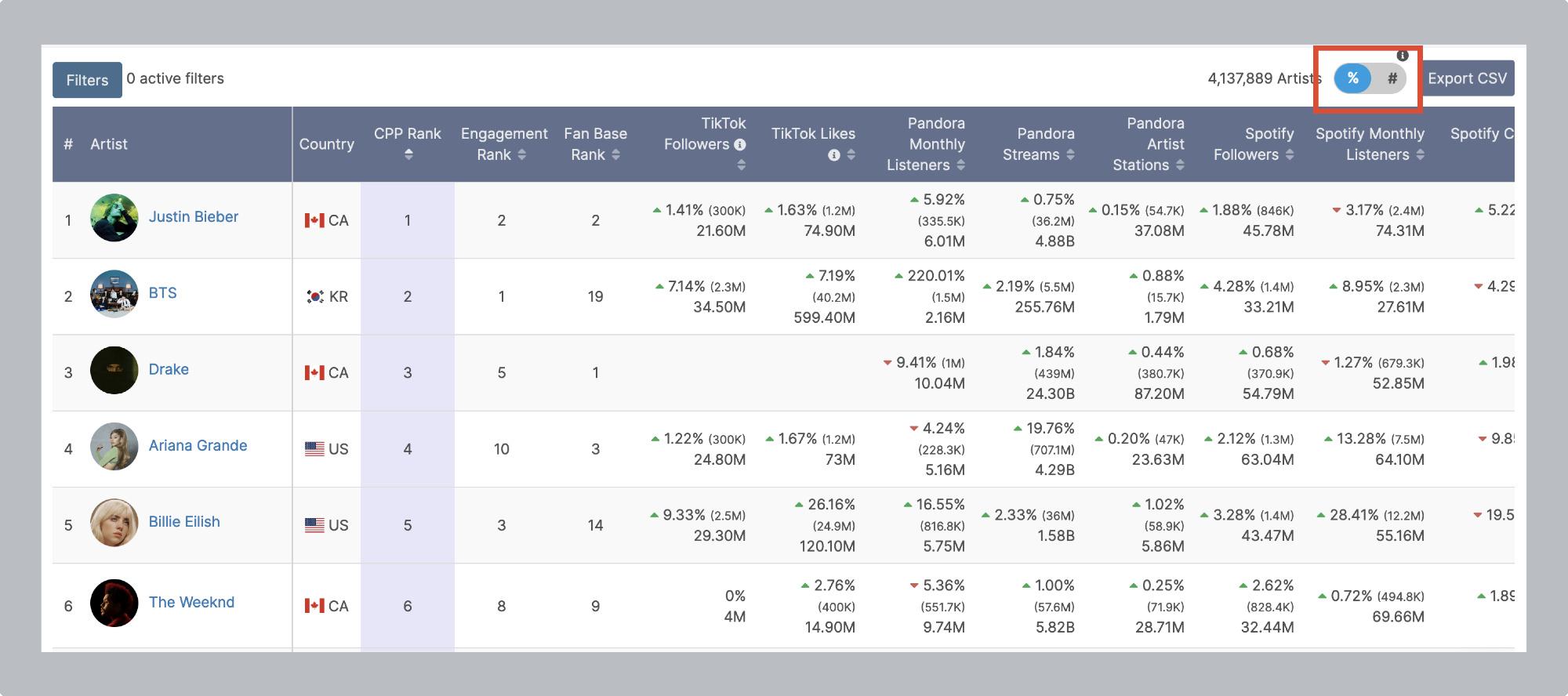 One-click navigation from Track and Album pages to Artist
Sometimes you find an interesting track and want to learn more about it. Then, intrigued by the track, you want to learn more about the album it's on or the artist that made it. In the past, you had to poke around to find the right link. Now, it's easy with one-click navigation on the sidebar.
Allow for user to toggle email updates for notifications
Maybe your email inbox is a bit full at the moment. Maybe you already live on Chartmetric, soaking up notifications as they come in and don't need the email reminders. Regardless, you can now turn off email updates summarizing recent notifications by going to your Settings page and using the toggle.
Other changes
Additions
- Top TikTok Stat API
- Twitter Retweets in the API
Updates
- Renamed "Social" to "Stats" and reorganized
- Hide null values from summary stats
- API documentation