Writing great responses to your customers is core to building stronger connections. Today, we will begin the rollout of a new writing experience on email, chat and messaging.
You will find the updated experience when replying to customers, writing internal notes and when composing new emails.
It will be rolled out to all accounts over the coming days. Be ready for the updates that are coming, by reading all about it below.

More solid
We know that bugs and glitches can be distracting when typing that perfect response, so we have focused on creating a smoother and more solid writing experience. We now also have better ways of effectively improving any issues that might come up in the future.
Updated look
We have updated the look of the icons a bit making them slightly smaller and less intrusive, giving you have more focus on the text you are writing. Formatting is now available under the A icon, giving more focus to links, files, emojis and Quick Responses.
Here you can also clear the formatting if your text, by clicking the clear formatting icon to the right in the toolbar. This is great if you've pasted in content, that you want to look a bit more clean.
Links, images and headlines are kept, when using the Clear formatting button.
Inserting and attaching files
We now support dragging files and images into the text area to insert them. For emails you can choose whether the files/images should appear inline or be added as attachments to the email.
You can also attach files by clicking paperclip icon or insert them by clicking the upload button in the toolbar:

Oh and by the way, you can also copy paste in images to the editor.
Quick Responses
Quick Responses have been rebuilt to improve their effectiveness. When clicking the Quick Responses icon you can now search directly for any Quick Response.

As previously you can type = to insert a Quick Response, but we've improved the search, so when you type you don't have to be as specific as before to find the right Quick Response. You also get a short preview of the Quick Response text so you can make sure you are using the right one.
Emojis
Emojis are becoming increasingly important when building connections with your customers. We've acknowledged that and added all emojis to the new emoji picker. You can also navigate emojis by category, making it easier to find that new cool emoji to use.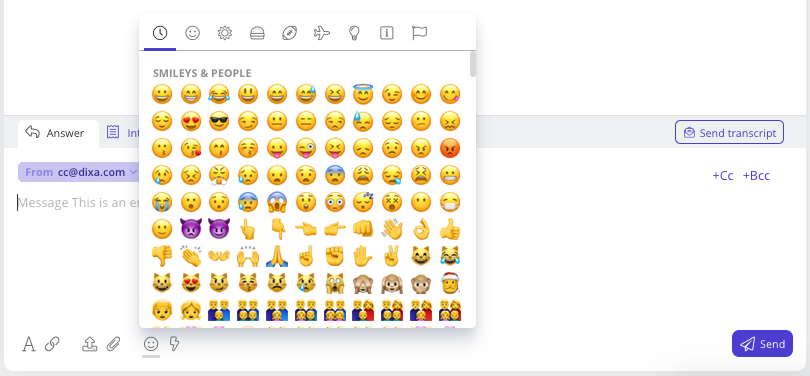 If you want to quickly insert emojis, simply type : and start typing.