It's no secret that real-time discussion is one of the essential elements of any successful collaboration in a company. Therefore, we've decided to completely change our comments to take your corporate communication to the next level. They are now faster (18 times!), have new UI and a lot of improvements, so let's get straight to it.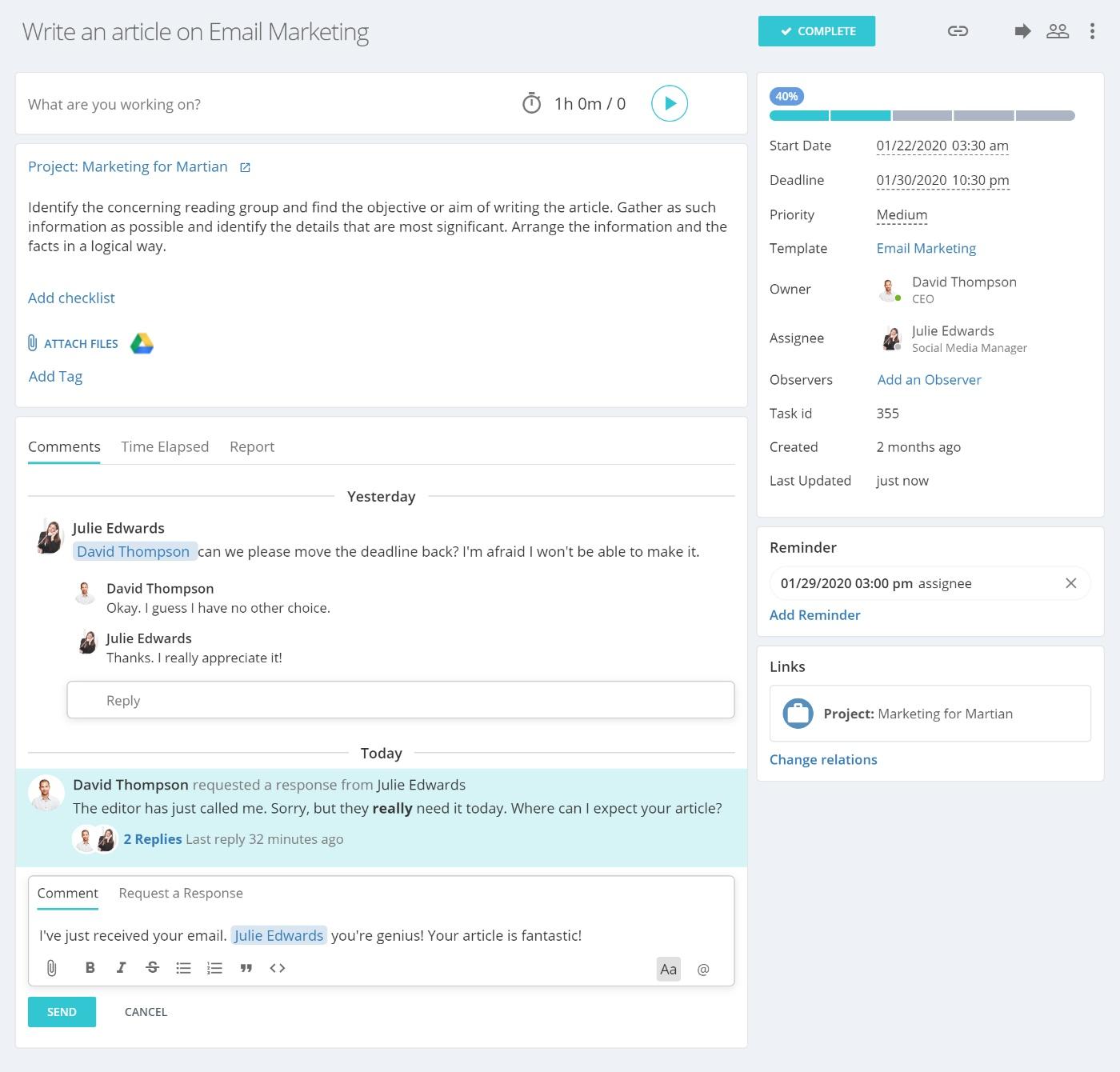 Feed Interface
We've been collecting lots of feedback, testing several options on our dear colleagues and friends, and finally, we've come up with a new clean interface of the comment feed. All additional functions (editing, deleting, etc.) are now placed in a special section at the top right corner, which is displayed when you hover over a comment.
If someone "likes" your comment, you will see the "like" button below the comment, with the number and list of users who responded. The same goes for the threads—just read on to find out more.
Request a Response
Over the years of working on our product, as well as having accumulated a great deal of experience in collaborative work, we have come to the conclusion that many questions asked to colleagues often remain unanswered.
Therefore, we need some feature that will highlight important questions in the enormous heap of incoming information. Say, you need to get your teammate's opinion on a task, but by simply leaving a comment that gets lost in a feed, you risk being ignored.
Now you can request a response from your colleague: just select the user(s) in the "Request a Response" tab, write your question and send it. All "requested" users will receive a notification. This comment will be highlighted in yellow, which means that an action is required.
You will see whether your request has been answered or not, and the requested teammates will also see whether they have replied or not—the comment will be highlighted for them too.
Mentions
Sometimes you'll need to call the attention of another team member, for example in a task, project or opportunity. Just click the @ button or include this symbol into your comment and select a user. The user you mention will immediately get a notification. You can tag your teammates in every module of the system that has comments.
Link to a Comment
Now each comment has its own link. Copy the link and send it to your colleague. When your teammates follow it, they will get, for example, to the task you have commented on, and this exact comment.
New Editor in Comments
Based on feedback from many of you about your experience of text formatting when commenting, we've decided to significantly improve the editor and interface of the text field. If you do not require an editor, you can hide it by clicking "Aa". The system will remember your preferences. You can also use shortcuts, the full list of which can be accessed here.
Paste Images From Clipboard
Now you can easily paste the images directly from the clipboard into your comment. Make your messages stand out, be read and get the attention they deserve.
New Threads
Threads have become much user-friendlier—now your replies are always collapsed and the comment displays only avatars of users who responded to it, as well as the date of the last response. By clicking on the number of replies, the thread will be expanded so you can leave your own comment. This makes the feed neat and handy, and reading it is now much easier!
Comment Ordering
Previously, all comments had bottom-up design (from new to the old ones). This often confused our users when they, for instance, needed to study the history of a long discussion in order to find the necessary information.
Our team has addressed this issue to avoid further confusion and introduced a more logical approach—reading the feed from top to bottom! If there are several comments, only the last three are displayed, the rest is minimized, and, If needed, they can be quickly expanded.
Check out the Knowledge Base to get better acquainted with new comments and mentions.