Today, we're excited to unveil one of our biggest Tasks updates ever. From customizable statuses to task automation and subtasks, we have a lot of exciting product improvements for you this month. With this Tasks upgrade, your team can be more productive and set up custom processes with just a few clicks. Enjoy!
Task Workflows
One of our most requested features, task workflows allow you to create your own statuses for the tasks that match your business requirements. Each task follows a specific sequence of stages as it passes through from start to completion. Instead of basic statuses like "To Do", "In Progress," and "Complete," you can now set up custom task statues and have full control over current task progress.
Please note that each new status that you create should fall under one of the following system status types:
To do
In progress
Approval
Completed
How to apply a custom workflow?
You can configure a task workflow for a specific project, project workflow or workspace. All the linked tasks will inherit the workflow you set up. If a task is not associated with any project or workspace, you can select a separate workflow for it. Once the task status is changed, the task assignee will be notified on this update.
Subtasks
From now on, you can use subtasks to break complex tasks into smaller steps and distribute each one to teammates. A subtask composes the same fields as the regular task. You can configure a deadline, choose an assignee, add a collaborator, and even select its own subtasks :) You can even track time for each separate subtask! The subtasks inherit the project and workspace relation from the parent task.
Best of all, the parent task is automatically closed out once all the subtasks are completed. However, you can always disable this option in the System Settings.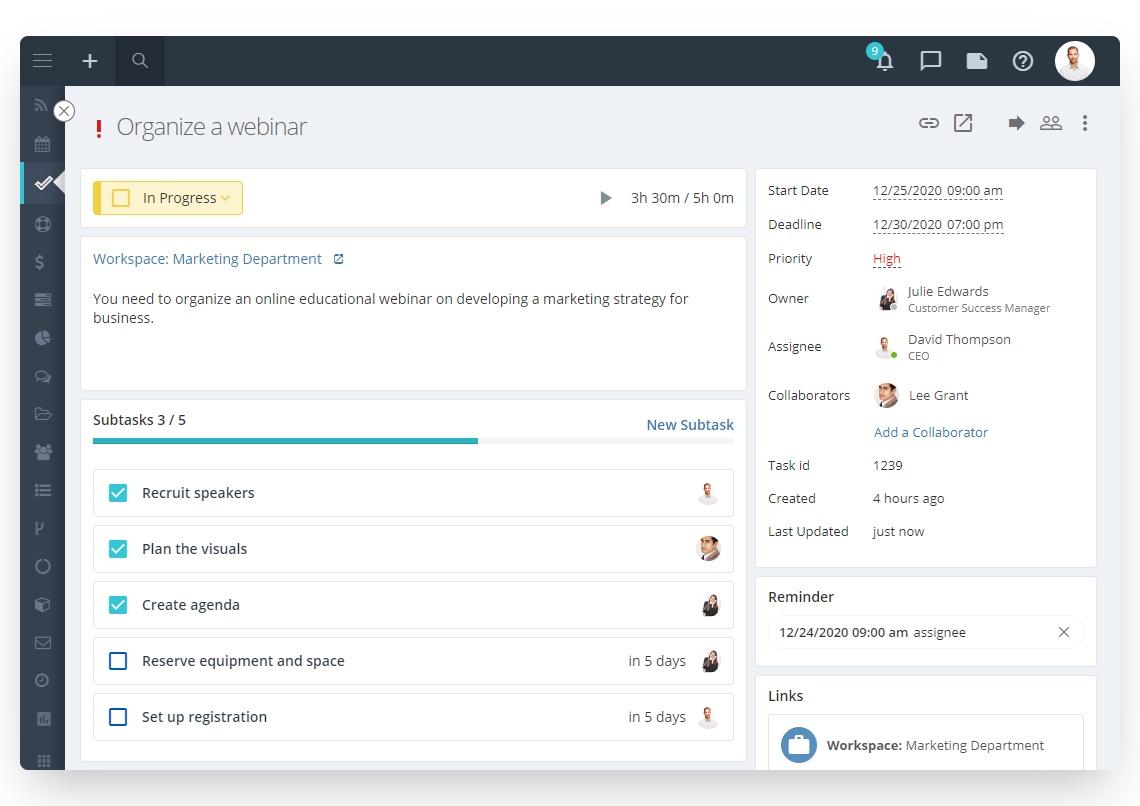 Task Automation
The automation for tasks is finally here! Build a predefined sequence of certain actions that are triggered when the task's status changes. For instance, Flowlu can automatically send notifications to the task owner when the deadline is close and the assignee has not even started the task. Or, you can even customize a rule to automatically change the task assignee when the task moves to a specific status. You can create multiple automated workflows to meet the needs within your organization and save your valuable time.
Task Activity Feed
Now the task activity feed allows you to view all the latest changes made to the tasks. Flowlu automatically logs who and when have updated the task, e.g. changed status, re-assigned a task, modified deadline and priority, adjusted the task name, etc. It's a great way to view all the updates on your task, especially unapproved ones, in one consolidated place.
More Improvements...
We've updated our Knowledge Base design and added the table view for the articles. Sort articles, apply filters and easily visualize your information!
There is now a "Save & Create New" button when you add a new task.
Due to the popular demand, we've added an ability to restrict changes to the approved invoices. To do this, go to System Settings → Finance and activate the appropriate option.
This month, we've also improved the speed of chat message delivery — your messages will now be delivered twice as fast as before the December update.
You can now hide the images from the opportunity Kanban board. If you'd like to turn that on, you can just go to the System Settings → CRM → Main Settings.
Some users asked us to release the feature of printing a task page. We did it!
The users are now able to add themselves as collaborators when creating a new opportunity.
Happy New Year!