We're pleased to announce the rollout of Email Integration. From now on, you can synchronize Flowlu with your mailboxes and manage all your messages in one place—no more jumping between mailboxes! Flowlu lets you connect to Gmail, Outlook or via IMAP.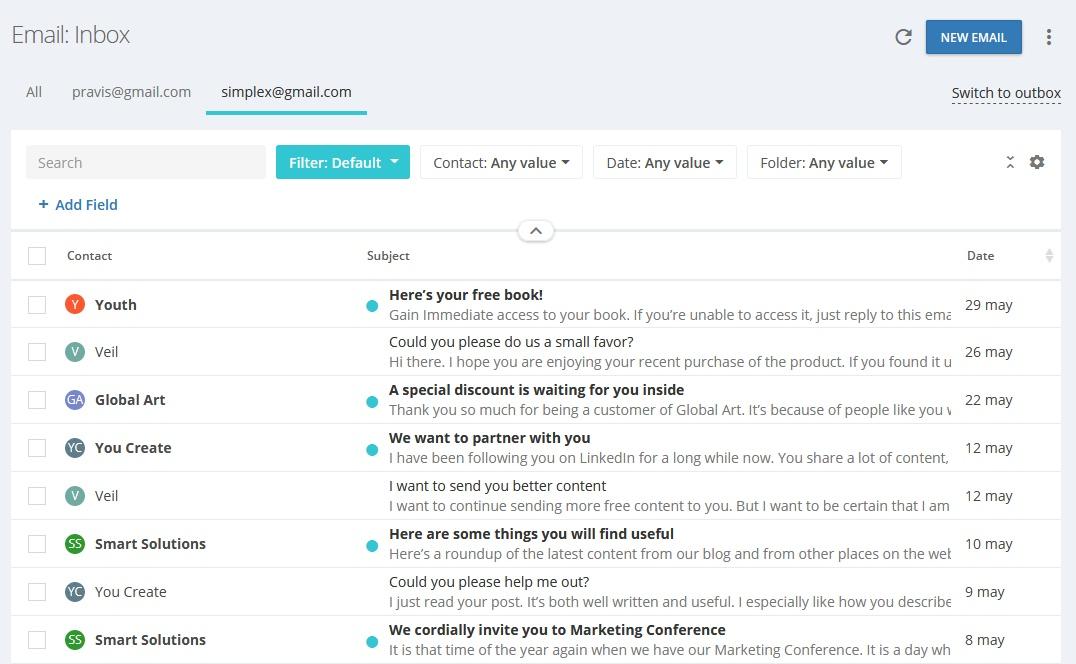 All Emails in One Place
Link your emails to your contacts, opportunities, tasks or projects, so you'll have a full overview of everything that's happening in one place. You will be able to look at a particular opportunity or contact and see all emails associated with that opportunity or person at-a-glance.
Templates and Signature
Create email templates and send messages to companies and people faster. Utilize variables to auto-fill with specific data about the corresponding recipient, such as the opportunity stage or client name. Create a customized signature for each mailbox that will be appended to the end of each email you send from Flowlu.
Open and Click Tracking
If you want to see if the customer or lead have opened or clicked on an email, use our tracking feature to get insight into the performance of your emails. Get real-time notifications as soon as a customer opens your email or clicked on any links.
Creating Opportunities and Contacts
Automatically create opportunities and contacts when you receive an email from someone who isn't a contact yet. If an existing contact already has one active opportunity, the email will be automatically attached to it, and if there are no opportunities yet, a new one will be created. From now on, you will never miss out a prospect or opportunity in emails.
Permissions
The connected mailbox will only be available to its owner. If necessary, you can always grant permissions to your personal mailbox to other teammates to collaborate on emails simultaneously.
Visit our Knowledge base to learn how to set up email integration and other brand new enhancements that make it easier to automate your customer management.