✔️ We have updated the Work Structure section for projects in the web and mobile versions. It is now more intuitive, straightforward and less cluttered. This section displays the list of stages, milestones and tasks and helps you at a glance view the amount of work required to complete a project ensuring nothing is skipped.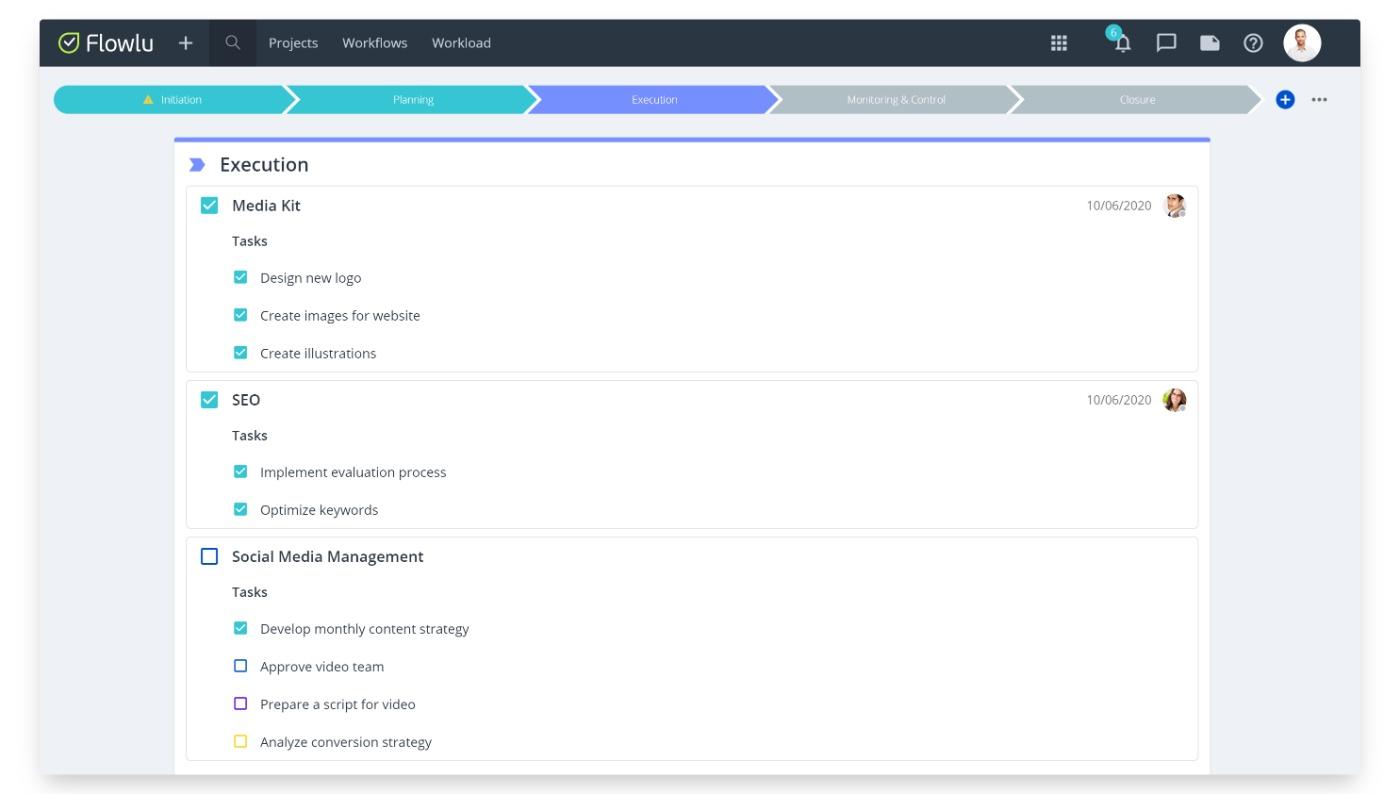 Color of the checkbox next to the tasks indicates their stage. It matches to the color of the task stage on the Kanban board in the project:
The blue indicator means that the task has not yet been started.
Yellow shows that the task is in progress.
Purple means that the task is pending for approval.
By the way, check out our recent blog post to learn more on the work breakdown structure and its benefits for your business.
✔️ We've released complete and handy API documentation for developers. Now it is much easier to set up data exchange between Flowlu and your application or website.
✔️ We've added the ability to display favorite filters right on the opportunity board. To do this, simply create your filter with several conditions, e.g. the opportunities received from email over a certain period of time. Next, mark this filter as your favorite. It will be displayed on the opportunity board with an indicator that shows how many opportunities on this funnel fit the specified parameters.
✔️ There is a new type of custom field available — decimal number. Utilize it to capture more context about your clients, opportunities or projects.
✔️ We've made some slight changes to opportunity card appearance on the Kanban board. The card now displays the start and end dates of an opportunity as well as information about whether there are any activities planned or missed.
✔️ The title, or honorific, specified in the client record, for example, "Mr. John Smith", can now be automatically placed using new variable when sending invoices or estimates.
✔️ A few users reached out to let us know that the logo in the signature does not show up when sending an email from inside Flowlu. We're happy to report that this is fixed now!
P.S. We continue to gather your use cases of automation in the opportunities. Your feedback is highly appreciated and will impact the further development of this functionality. Looking forward to your helpful comments and suggestions 😊