Optional task approval
If you often assign simple tasks that do not require approval after their completion, we've now got a solution for you! Deactivate the "Task approval" option in the "Tasks" module's settings. As a result, the tasks won't need the owner's approval and can be moved straight to the "Completed" stage. If you need to assign a task that requires approval, you can always enable this option for a specific task.
An assignee can change the task's deadline
This feature might come in handy if it is only the assignee who can estimate the deadline for the task. Both options are available in the mobile app.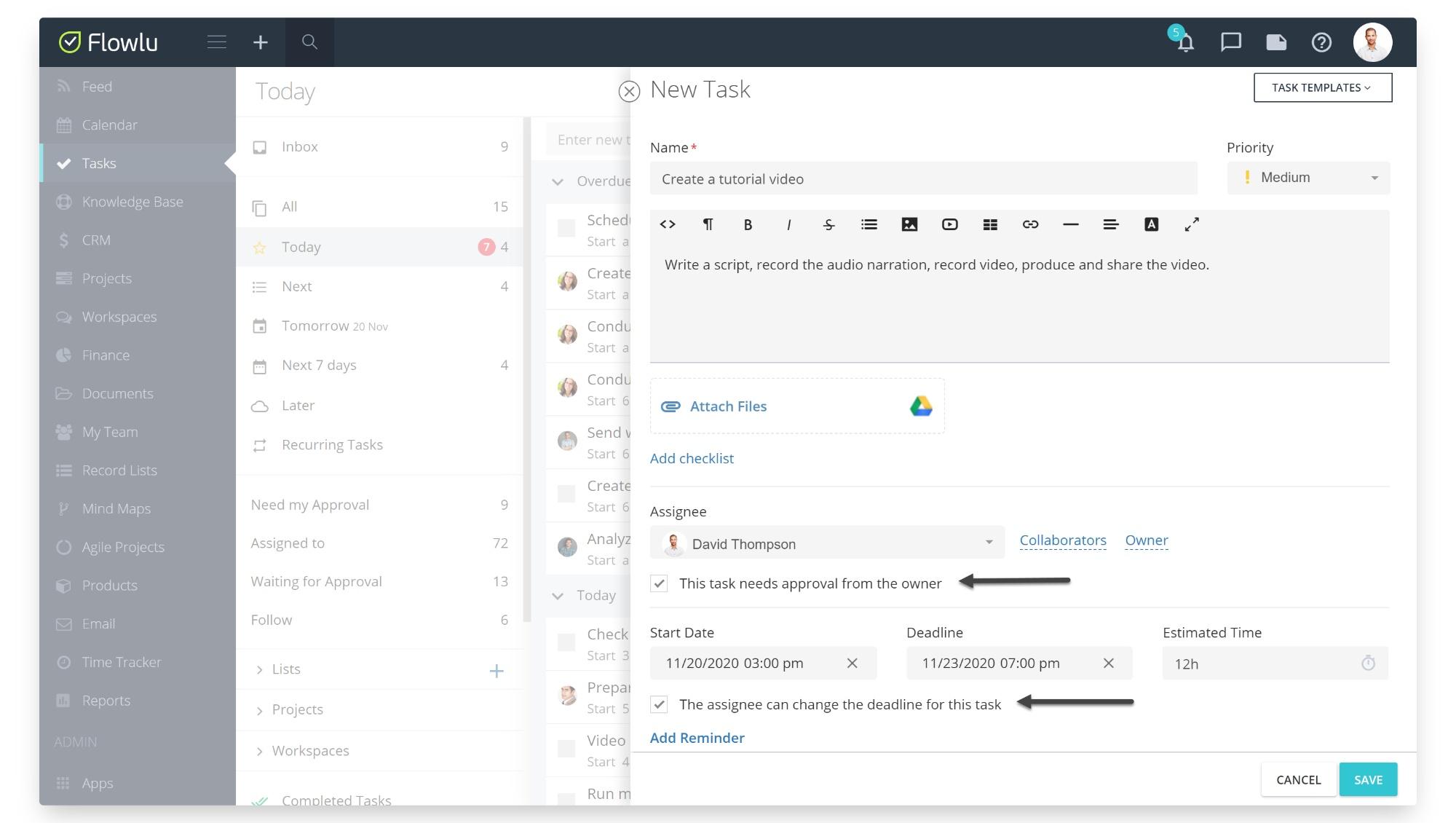 List of all CRM activities
We've added a new section to the CRM module where you can quickly access the whole list of activities for your opportunities. Scheduled, completed or overdue events, opportunity's tasks — they are all now displayed in one single place. Using the predefined sets of filters such as "Today's activities", "No activities", "Overdue activities", you can easily find activities that require your attention most. You can also set up your own filter, and, for example, quickly find the activities for a certain assignee for the particular time.
Permissions
Administrators of the CRM module have access to all activities for all assignees.
Employees see only their assigned events and tasks.
If an employee is assigned an opportunity or a contact, all the linked activities will be available to them in this list.
Completed and overdue events
It is now easier to track overdue events in the calendar. From now on they are highlighted in red, and the completed tasks are crossed out.
Redesigned menu
We've also significantly redesigned our main menu — now there is a sidebar design option aimed to simplify your account navigation. Also, you can now minimize or expand the menu by clicking on the button next to Flowlu (or your own) logo.
New sections in the mobile app
We are excited to announce that we've added even more features to the mobile app:
Workspaces
CRM Activities
Customizable filters in almost all sections