The new Group Displacement feature is an extremely powerful analysis that will complement our world-leading algorithm and real-time automation of your property's dynamic pricing. 🚀​
While Pace takes care of your transient pricing, we acknowledge that there are many other areas where you can maximise your revenue - managing groups more intelligently is one of them.
Group Displacement Analyses have always been a painful exercise for hoteliers.
They take up significant time to find the answer to a very simple question:
"Will I make more revenue by taking in a group vs continuing to sell to my transient business segments."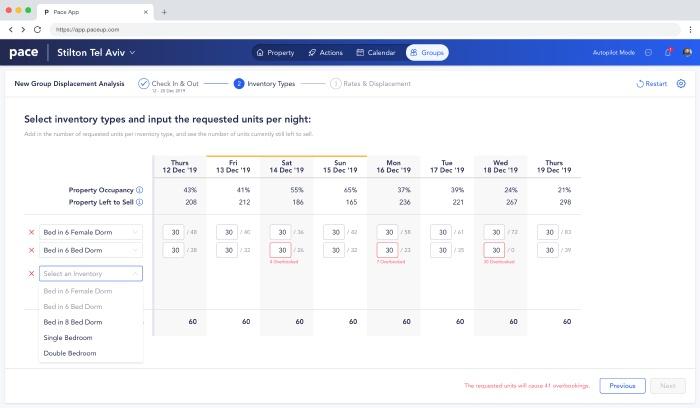 Pace's Group Displacement Analysis uses our accurate and granular forecasts to generate the analysis for you, and so not only saves you time, but also means your displacement results are based on real data science. By evaluating group requests, users can quickly see the value of a group and make a decision if they should take the booking or not.
Customise nights, rates and desired inventories easily for the group booking to see exactly how much more revenue the group will bring to your business.
We will be continuously expanding on Group Management with other features over the coming months.
We look forward to seeing all of our existing (and new) customers use this new analysis, and we welcome all feedback to help us make it even better.
The most accurate Group Displacement Analysis, exclusive to Pace's Autopilot users.
As always, check out our Helpdesk Article here or get in touch with our Customer Success team if you need any help or more information!