I'm sorry to say it, but you only have a few hours until the early-bird deal on HerPaperRoute's Wicked At WordPress course expires!
This is your LAST CHANCE to enroll at a discount!
Enroll to save $30 right now, and get my exclusive bonus.
Even though this offer is expiring soon, I don't want you to feel rushed into anything. And I only want you to enroll in Wicked At WordPress if it's going to make sense for YOUR goals.
So, Chelsea and her team are standing by right now to answer any questions you have about the course and to see if it's right for you! Go chat with them here:
----------------
I'm glad to let you know that my favorite Pinterest and Instagram tool, Tailwind, announced a $1,000,000 relief program to supply grants to their members in need. This program provides free access to their Plus Plan for up to three months, plus additional "pay it forward" grants for applicants to send to those in need in their community.
Here's how to apply for the grant:
Set up your free Tailwind account Fill out the application found here.
Tailwind is reviewing applications in the order they are received, so make sure you apply as soon as possible. The deadline for applying is May 8th.
-------------------
As an entrepreneur, I know it can be difficult to stay connected with your audience and keep revenue flowing during this time.
To help keep you moving forward, my friends at Thinkific launched a program to help – the Thinkific $1 Million Entrepreneur Growth Fund. With this program, Thinkific is giving away $1 million to help trainers, creatives and business owners like you get an online course up and running quickly by pairing you with a mentor and fully funding your costs.
Whether you're looking to teach online for the first time, or have a course and need help to get unstuck, this program is free and accepting applications now! If you're an experienced course creator or potential mentor with experience in website set up, development, online training, Thinkific will pay you to help out.
Click here to learn more and apply today!
--------------------------
My friends over at Tailwind are hosting a Pinterest GetTOGETHER once a week continuing on Wednesdays for as long as we need them.
Each Wednesday at 3 pm ET, we'll GetTOGETHER and cover a quick intro to Pinterest marketing, using Tailwind and some simple tips for success. Then, we'll spend 30 minutes Pinning, creating, and enjoying each other's company. Give and get feedback, ask questions, share your work! Questions are welcome!
And, because an hour passes so quickly, there's a pop-up Facebook group for feedback, fun, and inspiration any time!
Here's how to get in on it:
Have a Pinterest Account
Grab your free Tailwind trial - no credit card required!
Register for the GetTOGETHER and attend one, two, or all of them!
-----------------------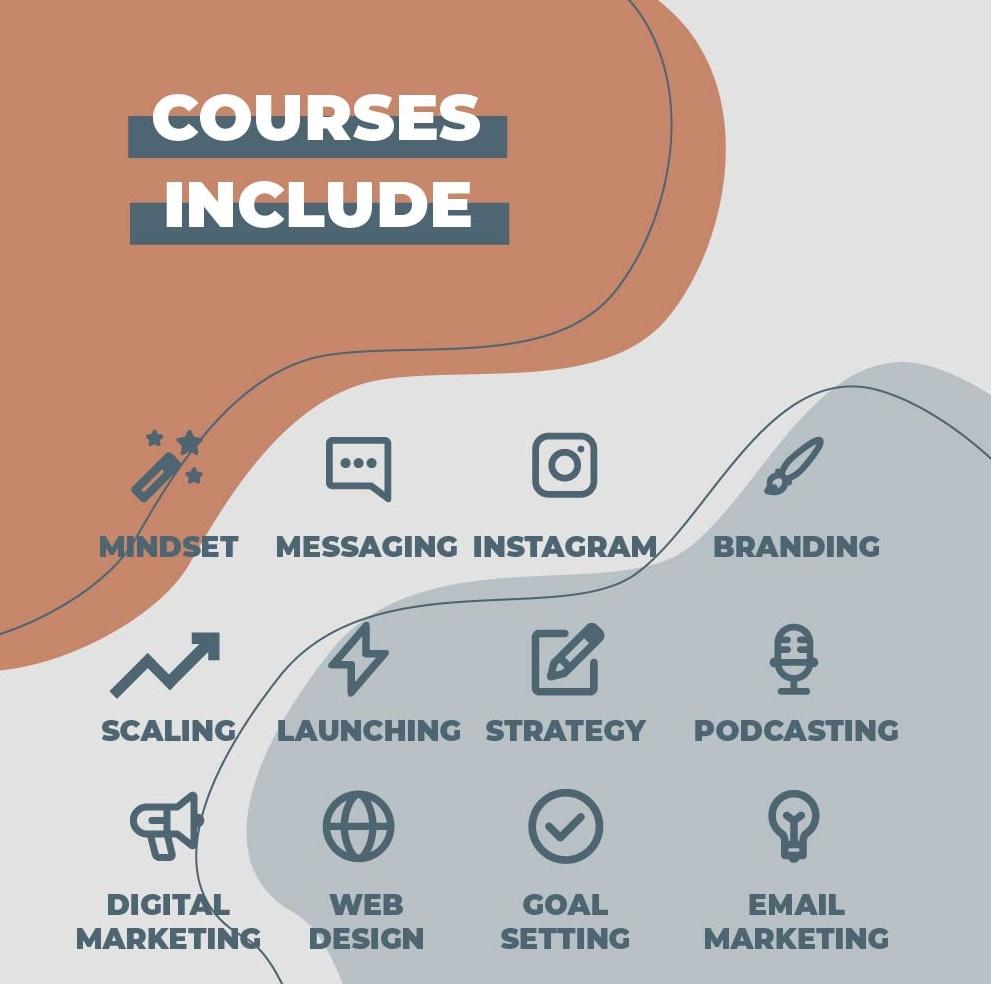 I understand that now, more than ever, you have a bit of extra time on your hands and might be dreaming of starting that business or leveling the one you currently have.
I also get it that now, more than ever, you might be wanting to crack down on the budget because times are a bit uncertain.
That's why 20+ course creators and I have come together to give you the ultimate business toolkit. If you are ready to take your business or dream to the next level, I've got the tools for you.
This week only, I'm teaming up with Your Course Toolkit to offer you a CEO Bundle of eCourses for just $99. That's right, 20+ courses for just $99.This bundle features a wide range of business owners and course creators. The entire collection is worth over $5000!
You might ask, why are we selling it to you for a fraction of the cost? Our heart is to provide business tools at an accessible rate for entrepreneurs eager to build and grow their businesses - now more than ever. We have searched the internet far and wide to compile the best of the best courses to highlight in each toolkit.
We're covering things like:
Branding
Social Media Marketing
How To Start A Podcast
Website Design
Email Marketing
& so much more!
Some of these courses alone are worth $997, and you get a bonus of 24 extra as a result.
This offer is only good until May 15th, so hurry on over and snag this deal before it's gone!