This affiliate newsletter was sent out through ShareASale... Be sure to check your inbox for your actual email to get your custom affiliates links embedded within (they're also available within ShareASale).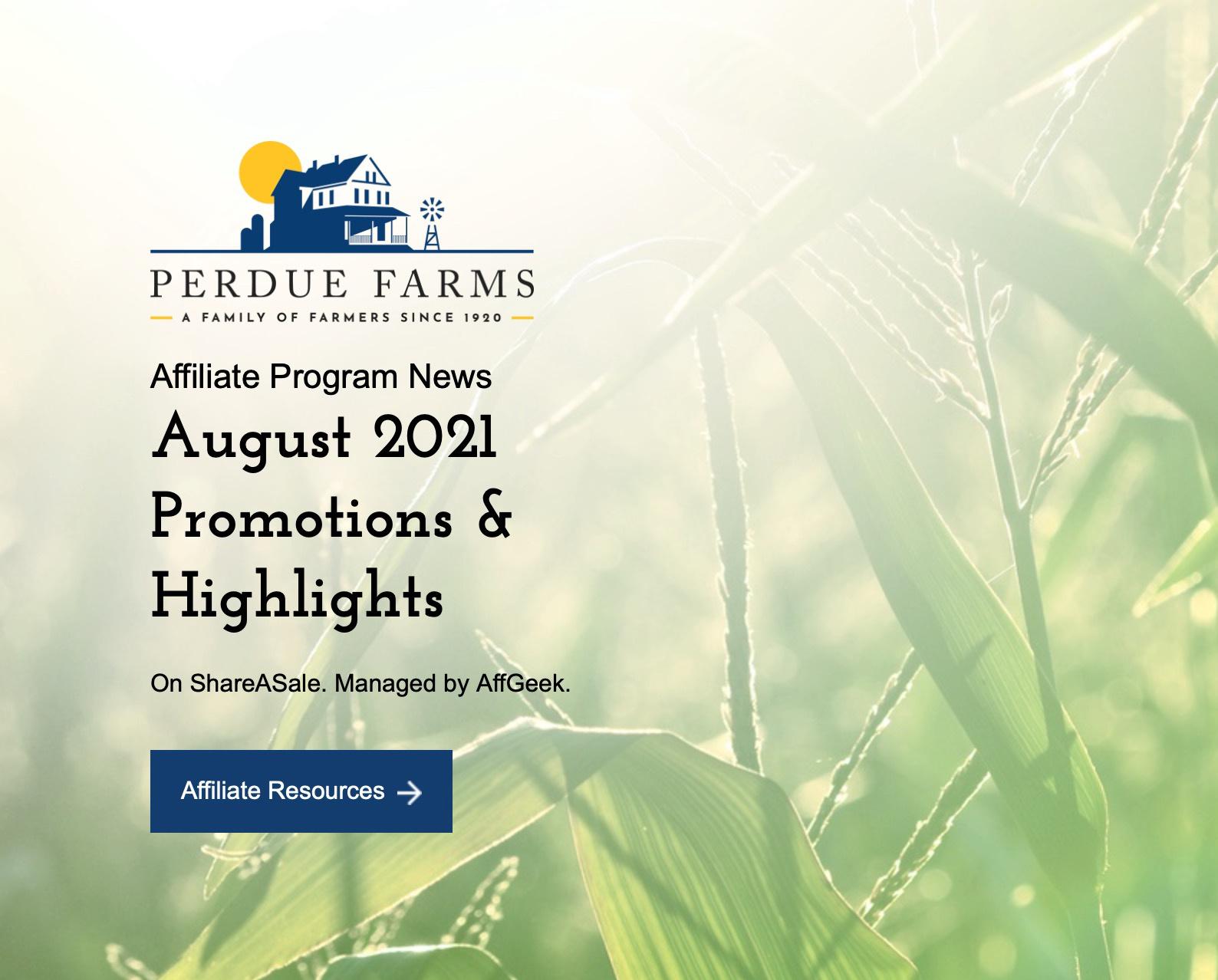 Hello Perdue Farms Affiliates!
Hard to believe August is already here. July started out slower in sales but ended with some of the best growth trends of the year. I have a few highlights to mention and a new product that is off to a great start.
For our new affiliates, be sure you join the Perdue Farms Affiliate Facebook Group. We post there regularly. You will need to enter you SAS name and ID# to be accepted into the group. As usual, please reply to this email if you have questions or if there is anything we can do for you.
Featured News
Introducing Chicken Tots - All-New from Perdue Farms
The culinary team at Perdue Farms has just released an innovative product that combines chicken and potatoes (and other vegetables) into a fun, kid-friendly and convenient (and yes shippable) form. Called Chicken Tots, they're off to a great start so be sure to let your audience know about this creative and convenient mealtime option. Learn more about Chicken Tots here.
Perdue Chicken Plus Chicken Tots
Other Exciting Promotions
While Chicken Tots are very exciting, they're far from the only thing happening at Perdue Farms. Be sure to pitch the following three specials this week (and beyond in some cases):
Two Free Packs of Niman Ranch Fat Tire Pulled Pork (extended through Aug. 4 while supplies last)
Please note that the customer must have a minimum of 1 item in cart and visit Perduefarms.com through this affiliate link for two packs of Niman Ranch Fat Tire Pulled Pork to be applied. May not be combined with other offers. Limited quantities are available. While supplies last. First come first served. No rain checks. Not valid on previous purchases. Offer ends 8/4/2021 at 11:45 p.m. ET.
Another big deal is the Big Beef Sale (through Sept. 7)
Finally, the All-American Summer Sale has been extended through August 15.
Shipping Reminder
Perdue Farms Shipping Changes
Shipping frozen but highly-perishable foods across the country is actually very challenging (and costly) to pull off successfully. That's probably the main reason there are not many competitors in this space. It's also why Perdue Farms is amending their free shipping policy to exclude 17 Midwestern, Southwestern and Western U.S. states with distant and/or very hot climates (they have to use expedited air shipping for these states from their eastern US distribution centers). Please note that Perdue Farms does not ship to Alaska at all.
The states that now have a shipping charge are AZ, CA, CO, HI, ID, MT, ND, NE, NM, NV, OK, OR, SD, TX, UT, WA, and WY. The shipping charge for these states now vary to cover the use of expedited air transport. You can visit this Perdue Farms shipping page for the charges and details on these states. They regretted having to make this decision but it simply was not viable to continue shipping these distances at such a loss. Please be sure to update your messaging accordingly if you have a national audience.
03-Aug-2021 Update - Please note that we now have several weeks of affiliate data to analyze since this shipping change and I'm pleased to report that it does not seem to be suppressing affiliate numbers much, if at all. While the number of sales placed may be down slightly, average order values (AOVs) are significantly up compared to before the change and affiliate earnings month over month (June and July) show an insignificant level of change.
Thank you for your part in making the Perdue Farms Affiliate Program a success!
- The Perdue Farms Affiliate Team
Read More