This affiliate newsletter was sent out through ShareASale... Be sure to check your inbox for your actual email to get your custom affiliates links embedded within (they're also available within ShareASale).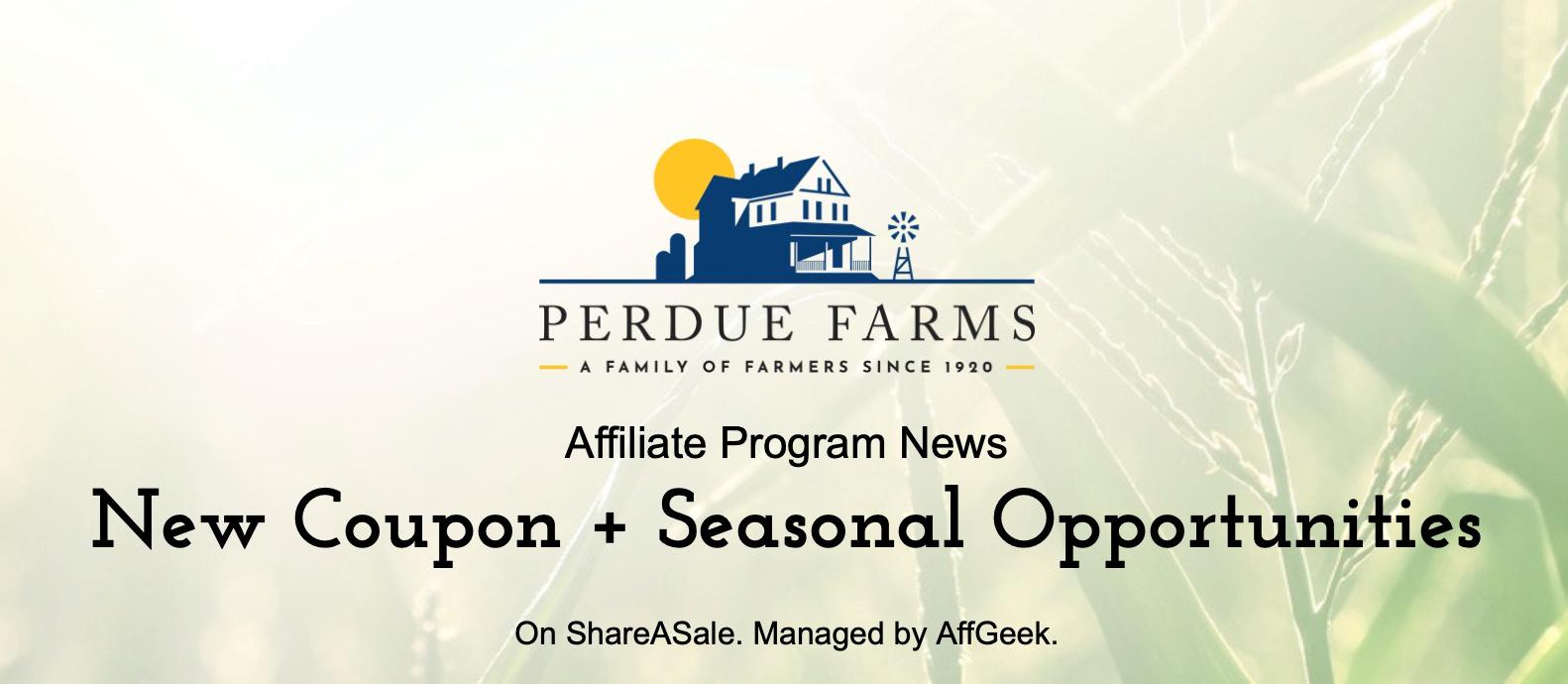 Hello Perdue Farms Affiliates!
We are almost to Q4 and that's hard to believe but exciting since it's a great time to be a Perdue Farms affiliate. In related news, the Perdue Farms affiliate program has experienced week over week growth for most of the past 3 months so if you're not active in our program then you need to get into the game! Speaking of the game, it's that time of the year all over the country and Perdue excels at providing innovative, convenient and delicious tailgating foods so be sure to pitch this opportunity to your audience.
For our new readers, be sure to check out our Perdue Farms Affiliate Facebook Group. We post there regularly so please be sure to join if you're on Facebook. You will need to enter you SAS name and ID# to be accepted into the group.
Featured News
BOGO FREE Coleman Natural Bacon - Coupon
We have a very short-run surprise coupon code promotion to share with you this week. It's for the Coleman Natural Bacon lineup and it's a buy one get on free promotion.
Here's your affiliate link but hurry since this promotion expires on September 21. Let your readers know to use coupon code PARENTS and note that they must have quantity of 1 of the qualifying products in the cart for the bonus product to be applied. The second, free, product will be the same product that was originally added to cart. Qualifying products are: Coleman Natural No-Sugar Applewood-Smoked Bacon and Coleman Natural Uncured Hickory Smoked Bacon. May not be combined with other offers. Limited quantities are available. While supplies last. First come first served. No rain checks.
Other Exciting Promotions
With Autumn coming in just a few days we're moving into one of the best seasons of the year for pitching Perdue Farms. Popular options include tailgating, fall parties, Thanksgiving, and then the run-up to Christmas. To that end we have lots of opportunities ready for affiliates to share. A few highlights are presented below with many more available within ShareASale (including many specialty steaks, organic chicken selections, and kid-friendly favorites).
If you have a sports audience, then these Game Day Favorites are a good opportunity to post through the middle of next month.
The Big Beef Sale have been extended through September 24.
Perfect Picks for Picky Eaters are designed to be fun for the kids and tasty for all. There should be enough in stock to last through October 7 in this promotion.
Finally, the FREE Shipping Bundles is a popular "evergreen" destination to share with your fans.
Affiliate Tip
Social Media and Growth
While there is no long-term substitute for building your own brand on your own platform (website, email list, etc.), social media tools can be great ways to help you grow faster. Just remember in all that growth and promotion, these platforms are "rented space." In short, you don't own the content you post there and are limited in what you can do with your audience.
As for a social media strategy, in the short-run, while growing and expanding your brand and base, there are social media features you may benefit from. Also, in the long-run, these platforms can be useful for increasing your exposure and branding beyond your owned space. However, in spite of the above benefits, I urge you not to become dependent or rely solely on these big tech algorithms and their "generosity" in providing you with a place on their ad-covered space.
With the above caveats in mind, I'd like to share some tips from AffiliateInsider. They recently posted an article entitled "5 New Social Media Features Affiliates Should Know About." It's a quick read and may offer you a new idea that can help you grow your audience further. Also, for other affiliate suggestions, I regularly post affiliate news and tips that you may find helpful.
Thank you for your part in making the Perdue Farms Affiliate Program a success!
- The Perdue Farms Affiliate Team