This affiliate newsletter was sent out through ShareASale... Be sure to check your inbox for your actual email to get your custom affiliates links embedded within (they're also available within ShareASale).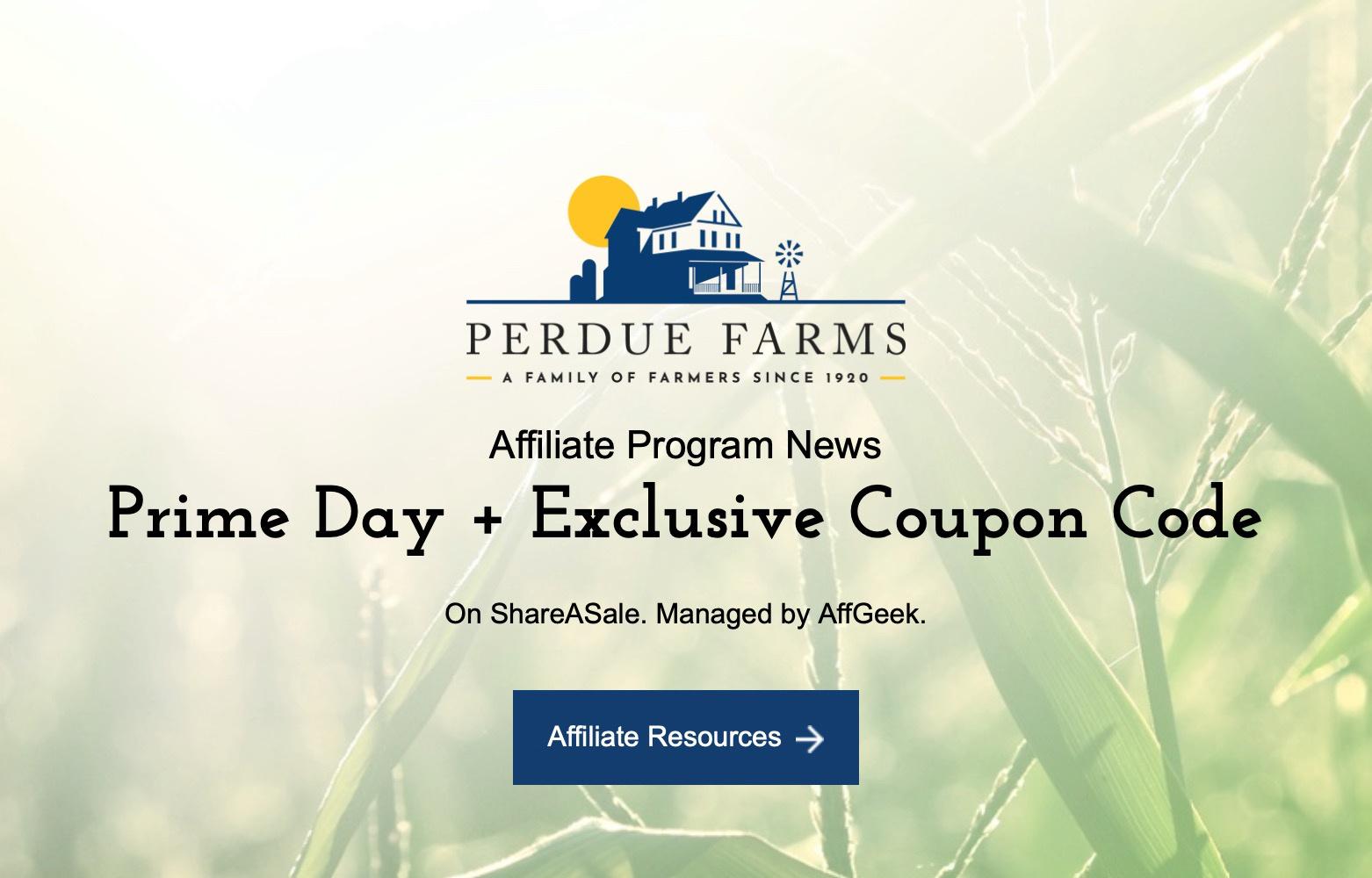 Hello Perdue Farms Affiliates!
Next week is a BIG week: Father's Day on June 20 (and also the first day of summer) and Amazon's Prime Day (which is actually two days this year) on June 21-22.
Since Prime Day historically is like Black Friday in the summer for online shopping, we didn't want to leave affiliates out of the fun with Perdue Farms. To that end we have an affiliate-exclusive coupon code to share with you so read on...
Be sure you join the Perdue Farms Affiliate Facebook Group. We post there regularly. You will need to enter you SAS name and ID# to be accepted into the group. As usual, please reply to this email if you have questions or if there is anything we can do for you.
1. Special Offers
Popular Pitches to Promote
FREE Whole Chicken with ANY $59.99+ purchase! - use affiliate-exclusive Prime Day coupon code PRIMEDEAL now through June 21:
Terms & Conditions - Must have minimum sub-total of $59.99 of products in the cart and use the code PRIMEDEAL for 1 Perdue Whole Chicken with Giblets and Necks to be applied. May not be combined with other offers. Limited quantities are available. While supplies last. First come first served. No rain checks. Not valid on previous purchases. Offer ends 6/21/2021 at 11:45 p.m. ET.
All-American Summer Sale - get ready for the 4th of July
2. Featured Affiliate Links
Must-Share Opportunities
Below are some other very popular bundles and offers available.
Free Shipping Special Bundles
Evergreen affiliate-exclusive coupon offer using code FLAVOR10 - May not be combined with other offers (products in Sales category and sub-categories will not qualify for 10% off discount).
3. Affiliate Tips
Prime Day Strategies
As noted above, Amazon created "Prime Day" and turned it into a "can't miss" online shopping event. Many ecommerce retailers have since jumped on board since shoppers are "primed" to spend a lot of money during this event. That means it's a great time for affiliate marketers. Over the past few years I've seen affiliate programs easily triple their sales during this timeframe. I think with some extra prep work and promotional alerts (like the affiliate exclusive noted above), 5-6x multiples are possible.
Two affiliate marketing strategies suggested last year by SelfAdvertiser in their post entitled "Amazon Prime Day: E-Commerce Tactics for Affiliate Marketing" are to "do your own thing" and to "start early." That's exactly what Perdue Farms has done with their free whole chicken offer. Amazon can't compete with Perdue Farms in shipping frozen chicken and other meats so that's a big plus for our affiliates. Also, we're starting this promotion early, as in today, so go ahead and call it a Prime Day special if you like but let your audience know they can buy now before it sells out. Finally, this is an affiliate-exclusive offer so you won't find it on the Perdue Farms site unless you use the special affiliate link and coupon code posted above.
4. News You Can Use
Grilling Guides from Perdue Farms
Perdue Farms publishes a wealth of recipes, tips and more that you can share with your readers. Two popular landing pages for you to share this time of the year are their Grilling Guides for beef and chicken. Here are affiliate links you can use to share these two features...
..........
Thank you for your part in making the Perdue Farms Affiliate Program a success!
- The Perdue Farms Affiliate Team