You can limit the number of items available for items with multiple quantities!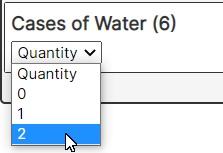 TimeToSignUp account admins love having the ability to post multiple quantities for an item. In our example below, participants can easily sign up for 1, 2, 3, 4, 5 or 6 cases of water.
There are times when a TimeToSignUp account administrator may want each participant to claim only a portion of the quantity of items that are posted. TimeToSignUp now offers the ability for TimeToSignUp accounts admins to limit the quantity that a participant can sign up for. It's an easy way to make sure all items are evenly distributed during sign ups.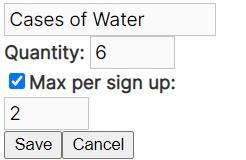 When participants are signing up for an item that has the "maximum" feature enabled, they will be able to sign up for only the number entered in the max field, not for the entire amount. In our example, even though there are 6 available, participants can sign up for a maximum of 2.