Hey there,
Its time to update again :)
UpStroke version Version 1.10.0 has been released.
This version focuses on enhanced capabilities of Facebook Pixel tracking in UpStroke.
We have enriched Facebook pixel with more parameters.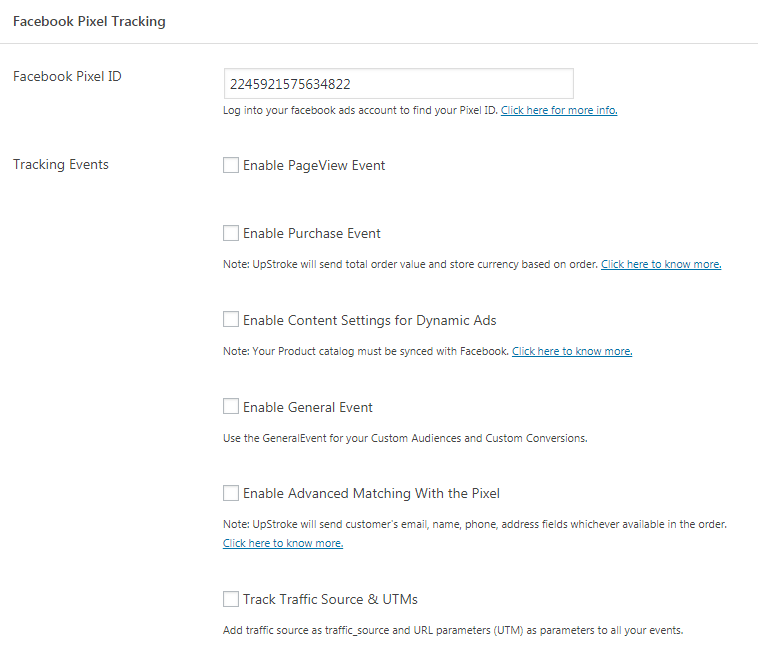 Enhancement #1: Enrich your Facebook Pixel with Town,State & Country, Payment Method , Shipping Method and Coupon Parameters
Enhancement #2: If you are running Dynamic Product Ads, pass product_id in content_id parameter
Also add prefix or suffix to this parameter
Enhancement #3: Fire a General Event for your Custom Audiences and Custom Conversions. post_type, content_name , post_id will be sent in General Event.
Enhancement #4: Add traffic source as traffic_source and URL parameters (utm_source, utm_media, utm_campaign, utm_term, utm_content) as parameters to all your events.
This brings in our PURCHASE tracking at par with some of the popular plugins such as PixelYourSite.
*Important Note*: If you are using external plugin such as Pixel Your Site, we strongly advise you turn OFF Purchase Event from the plugin. And let UpStroke take the responsibility of firing Purchase Event.
Apart from Facebook Pixel Enhancement, we have done other fixes and improvements.
Click on the link below to read complete changelog.